Summary
Recommended for experienced traders looking for an easy-to-use platform and a great user experience
76.4% of retail CFD accounts lose money
Visit Broker
Plus500 Ltd is listed on the Main List of London Stock Exchange in the UK that was founded in 2008 in Israel. It is regulated by several international financial authorities, including top-tier ones like the UK's Financial Conduct Authority (FCA) and the Australian Securities and Investments Commission (ASIC).
Plus500 is considered trusted because it is listed on a stock exchange, discloses its financials and is regulated by several top-tier financial authorities.
Disclaimer: CFDs are complex instruments and come with a high risk of losing money rapidly due to leverage. 76.4% of retail investor accounts lose money when trading CFDs with this provider. You should consider whether you understand how CFDs work and whether you can afford to take the high risk of losing your money.
Disclaimer for daytraders: At Plus500, scalping is defined as "A trading strategy where a significant portion of the customer's positions are opened and closed by him/her within 2 minutes." If Plus500 believes you were following this strategy, your account might be blocked and closed. Therefore, if you plan to execute trades within 2 minutes, Plus500 is not your broker.
PROS:
Used by 155,000+ traders
Established in 2008
Plus500UK Ltd authorized & regulated by the FCA (#509909)
Plus500CY Ltd authorized & regulated by CySEC (#250/14).
Plus500AU Pty Ltd (ACN 153301681), licensed by: ASIC in Australia, AFSL #417727, FMA in New Zealand, FSP #486026; Authorised Financial Services Provider in South Africa, FSP #47546
Min. deposit from £100
CONS:
Doesn't allow scalping (See alternatives)
Inactivity Fee
Limited range of instruments
Introduction
Plus500 is an Israeli-based contract for difference (CFD) broker that was established in 2008. The company owns branches in various parts of the world which are regulated by entities such as CySEC and FCA. Users are normally served by the subsidiaries located closest to them geographically. Plus500 Ltd is listed on the Main Market of the London Stock Exchange. This means it's a trusted ally when it comes to the trading of assets including indices, ETF's, commodities, cryptocurrencies and currency pairs.
As CFDs are leveraged products that carry a substantial amount of risk. They can also bring heady rewards, but bare in mind when considering the use of leverage in your trades how risky it can be.
Plus500 Products
Plus500 deals with Contract for Differences only. Technically, when they offer you "cryptos" (Availability subject to regulation) or "shares," these are merely CFDs on those assets. Confusing? Let's put it this way. When you trade on the price of a Samsung share, you'll be speculating on the price movement, you wont actually own a Samsung share. Here are some of the CFDs listed on this exchange:
Stocks-Plus500 offers over 190 stocks from UK exchange and about 40 from the Italian stocks market.
Indices-about 23 equity indices are available for trading
Commodities-there are 17 of them including gold, copper, energy, and coco
ETFs-there almost 80 ETFs which are pulled from major stocks, commodities and other indexes
Cryptocurrencies-the available USD-denominated cryptocurrencies are Bitcoin, Ethereum, Zcash, Bitcoin Cash, Litecoin, and Monero (Availability subject to regulation).
Options-common options include Italian, Dutch, UK, and French options
Currencies-almost 59 currency pairs available
Check Plus500's website for comprehensive coverage of all the products they offer.
Plus500 Trading Conditions
The company's trading fee structure is not transparent since the fee applied is usually embedded in the spreads. The method used to calculate overnight charges is kept a secret as well.
Plus500 does not charge commissions. Besides spreads, they also collect a fee from roll over long and short positions held by traders. A dormant account also attracts inactivity fees. Spreads start from just 0.01% on the EUR/USD. Please see the list below for the minimum spreads applicable on this platform. Please be advised that both the start rate and spread amounts are dynamic and the list below is taken from the Plus500 website on Nov 23, 2020 at 23:19.

Plus500 Platform and Tools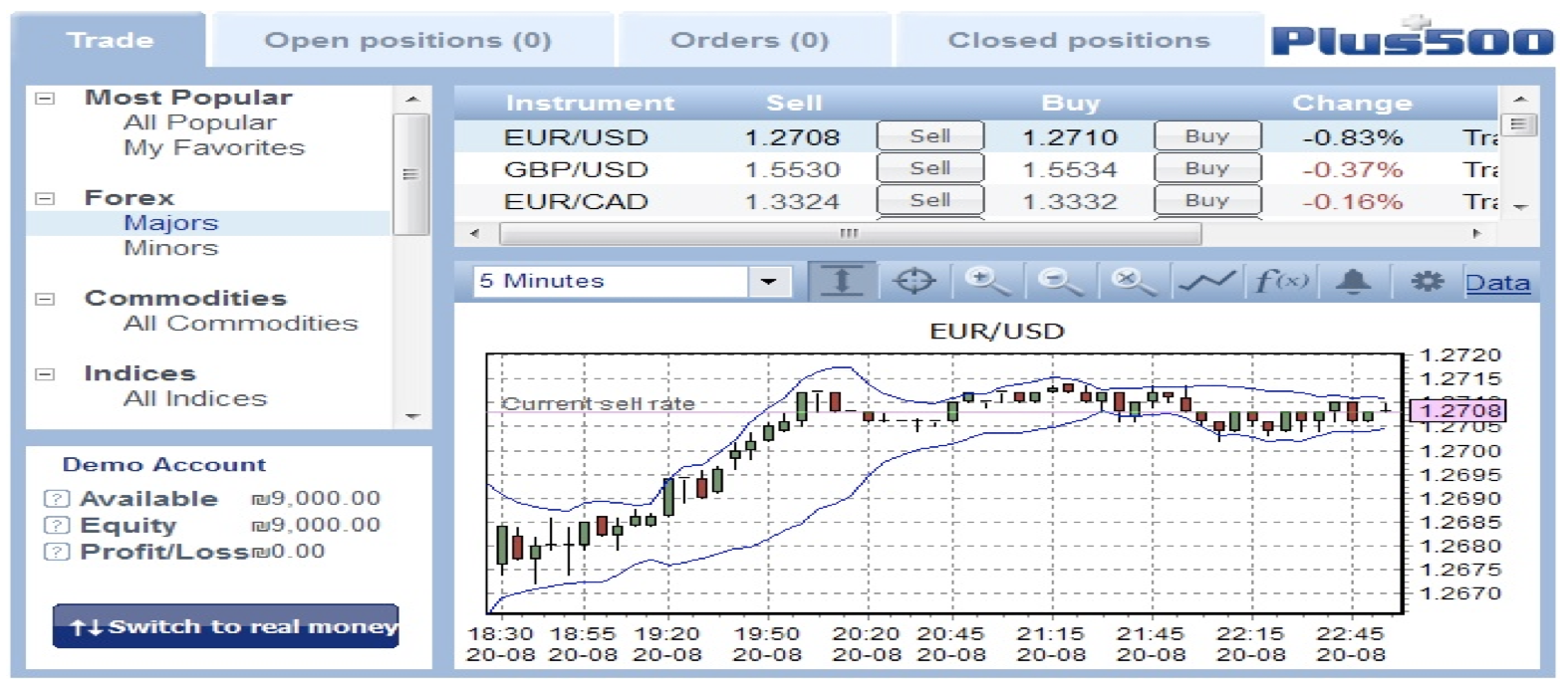 Illustrative prices.
Plus500 has a proprietary platform which is well laid out and easy to use. The layout of the platform is simple, minimalistic, and every category is clearly listed on the left side, prices in the middle and transaction section is on the right. There are a few precise chartings to help one analyze price and other market trends. You can modify these charts and even add indicators in order to conduct your trading strategies.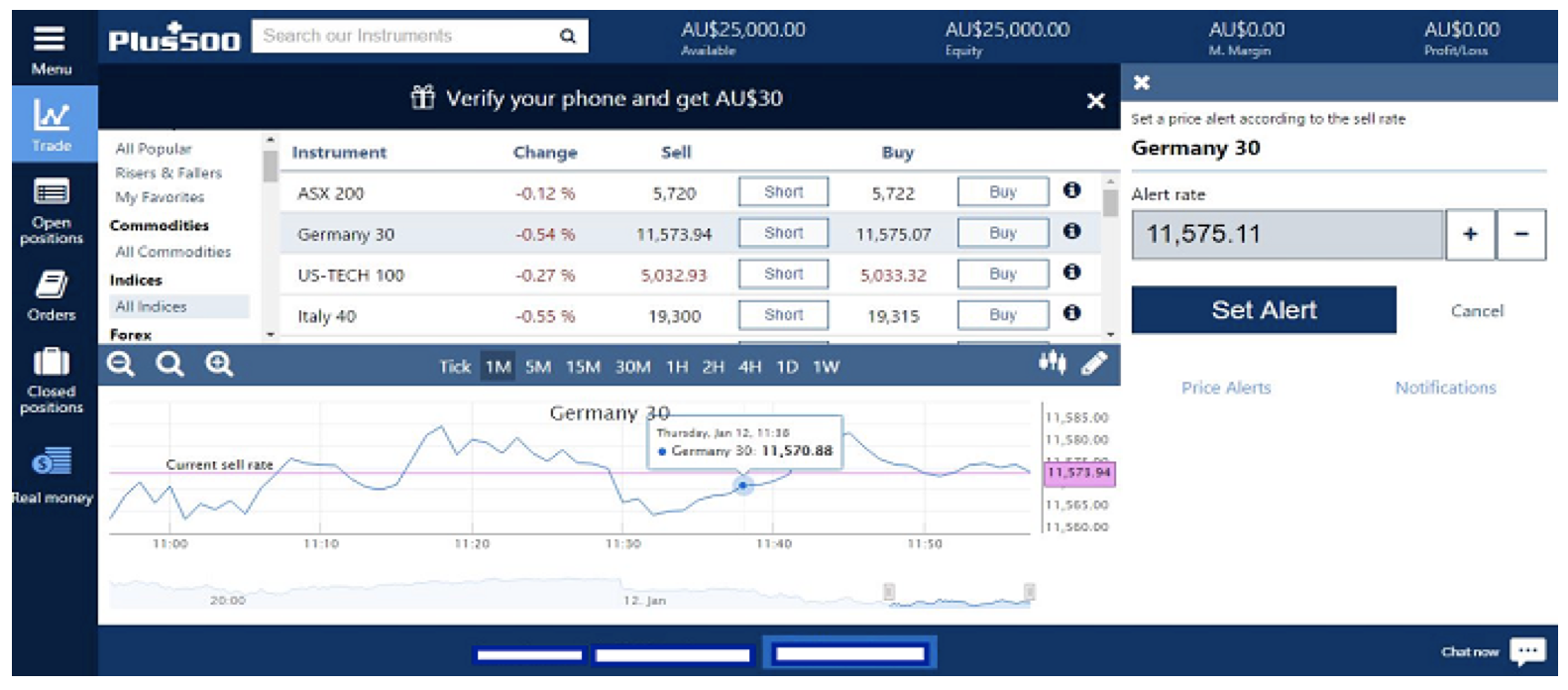 Illustrative prices.
The lower section of this platform gives you access to account balances, losses, profits, and equity. It's from this area where deposits and withdrawals happen. At first glance, the chart area beams with potential, but in truth, it is slightly limited when it comes to creating your own custom indicators.
Opening an account on this platform is easily done. The website and app provide a registration form where one can key in all the necessary information. Again, make sure to check if your country is supported and that the services you are looking for are available before filling the form.
You should note that Plus500 also offer a Demo trading account where you can take the platform for a spin.
As for other tools, Plus 500 offer an economic calendar, featuring the latest and most important economic events and data releases as well as real time trading alerts through SMS or email. Additionally the platform features Risk Management including Limit Orders, like Stop Loss and Trailing Stop.
Plus500 Mobile Trading
Plus500 offer traders the ability to trade on the go, no matter where they are with their mobile apps. Mobile traders can execute trades and check out their accounts through Windows mobile, iPhone, iPad and Apple Watch app.  as well as through the Android smartphone.
Plus500 Deposit and Withdrawals
It's easy and straightforward to deposit or withdraw money from Plus500. Some of the accepted methods include bank transfer, credit card, PayPal, and Skrill.
The minimum amount you can withdraw with Plus500 through PayPal is $50. Credit card and bank transfer minimum is set at $100. If you wish to withdraw less than the set value, a fee of $10 will be applied.  The same fee is levied for anyone who wishes to empty their accounts and close them-unless you are transferring to a credit card.
Plus500 Customer Support
Plus500 has a supportive customer care service. You can reach them via online chat, WhatsApp as well as email throughout the day, night as well as on the weekends. To cater to the needs of non-English speakers, the platform offers services in 31 more languages, so no one is left stranded. The main languages are English, German, Russia, Spanish, Arabic, Dutch, Polish, Italian, and French.
On a busy day, however, the transaction speed gets affected. This is becoming a norm amongst many exchanges.
Plus500 Reliability and Fairness
Plus500 platform is secured by SSL, and it is safe in terms of protection against hackers. After almost a decade of service, this platform has never once experienced any major or minor security breach. Additionally the broker is regulated by various regulatory bodies. This protects your interests and your funds as a trader.  Plus 500 is regulated by the UK's FCA under authorisation no. FRN 509909. This means Plus 500 must remain compliant with the Financial Conduct Authority's stringent rules and regulations. The firm must keep its clients' funds separate from its own corporate funds. This protects the clients trading deposits. When you open an account with Plus500, they will treat your deposits in accordance with the Cyprus Securities and Exchange Commission's client deposit rules. Additionally clients of Plus500UK Ltd would fall under the 'investments' claim category, whereby the cover is £85,000 per person/per firm should the worst happen and the company become insolvent.
Pros
Free demo account
Great mobile platform
User-friendly trading platform
A variety of trading assets
Regulated by several entities
Trusted by over 155, 000 users
Multi-language website
Minimum deposit is low
Several ways to fund an account
Cons
Hard to find FAQs section
Doesn't provide much trading education
No swap account
Minimal research tools
Trades only CFDs
Conclusion
Plus500 exchange is certainly a go-to platform for those located within the areas it operates from. Simplicity and a mixture of both beginner and advanced trader features make it suitable for almost every person. It's also regulated by several entities thus credible and reliable. Therefore, feel free to try it out if it ticks most of the boxes on your screening list of things you are looking for.
Recommended for experienced traders looking for an easy-to-use platform and a great user experience

76.4% of retail CFD accounts lose money

Plus500 Ltd is listed on the Main List of London Stock Exchange in the UK that was founded in 2008 in Israel. It is regulated by several international financial authorities, including top-tier ones like the UK's Financial Conduct Authority (FCA) and the Australian Securities and Investments Commission (ASIC).

Plus500 is considered trusted because it is listed on a stock exchange, discloses its financials and is regulated by several top-tier financial authorities.

Disclaimer: CFDs are complex instruments and come with a high risk of losing money rapidly due to leverage. 76.4% of retail investor accounts lose money when trading CFDs with this provider. You should consider whether you understand how CFDs work and whether you can afford to take the high risk of losing your money.

Disclaimer for daytraders: At Plus500, scalping is defined as "A trading strategy where a significant portion of the customer's positions are opened and closed by him/her within 2 minutes." If Plus500 believes you were following this strategy, your account might be blocked and closed. Therefore, if you plan to execute trades within 2 minutes, Plus500 is not your broker.

Used by 155,000+ traders
Established in 2008
Plus500UK Ltd authorized & regulated by the FCA (#509909)
Plus500CY Ltd authorized & regulated by CySEC (#250/14).
Plus500AU Pty Ltd (ACN 153301681), licensed by: ASIC in Australia, AFSL #417727, FMA in New Zealand, FSP #486026; Authorised Financial Services Provider in South Africa, FSP #47546
Min. deposit from £100

Doesn't allow scalping (See alternatives)
Inactivity Fee
Limited range of instruments