IQ Option Introduction
IQ Option is an online broker, founded in 2013 by Alta Vista Trading Limited, Seychelles. In 2014 the ownership was transferred to Iqoption Europe Ltd, which is now regulated by the Cyprus Securities and Exchange Commission (CySEC) under the 327751 registration number. Their corporate office is located at Yiannis Nicolaides Business Center in Limassol, Cyprus.
During the four years of their operation, IQ Option has received 14 awards, the most notable of which are:
Best Binary Options Broker Europe 2015

Fastest Growing Binary Options Brand 2015

Best Trading Platform 2014
Their website is easy to use and supports 13 languages.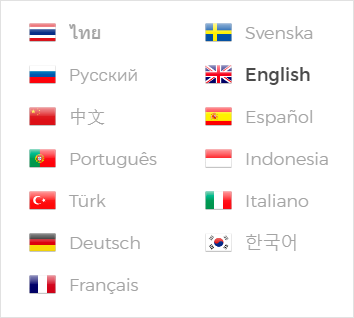 IQ Option Broker Products
IQ Option started as a binary broker only, but today, they offer a wide variety of products, including:
IQ Option Trading Conditions
Unlike most online brokers, IQ Option has named their leverage: Multiplier. Once a trader has selected a size in currency to enter a position, they have the option to use the multiplier. The multiplier numbers are predefined at: x1, x25, x50, x100, x300, x500, and x1,000, and they cannot be changed to a different multiplier. If a trader wants to use only the money in their account and no leverage, they should select x1.
Trade execution is similar to most online brokers, where after clicking the confirmation button, it takes about 1-2 seconds for the order to be executed. Same goes for closing positions.
IQ Option Account Types
When opening an account with IQ Option, there are three types of accounts to choose from:
Practice accounts. As the name suggests, this type of account is made for beginners but also for experienced traders who want to test new strategies. In case of losses, the funds can be replenished with a single click on the platform.

Real accounts. This type of account is the standard account used for trading with real funds. When a trader deposits $3,000 or more, they are awarded with a VIP account status.

VIP accounts. This type of account has additional features, like personal account manager, free access to tournaments, higher profitability rates, and training material. There is no difference in spread or execution from the standard real accounts.
IQ Option Commission and Fees
IQ Option has a different approach to spread. Instead of showing pips as a difference between the bid and ask prices, they show spread in percentage.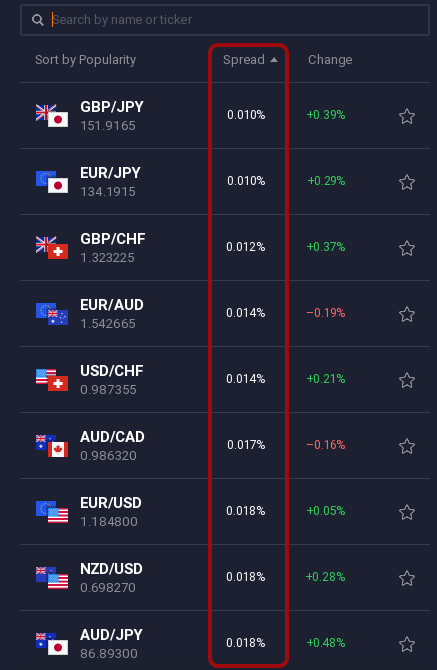 However, in pips, this translates to an average of 2 pips for EUR/USD, and 3 pips for GBP/USD during the London and the New York trading sessions which are relatively high, given the competitiveness of spreads in the industry, especially with the addition of Zero Spread Accounts (ECN). Unfortunately, IQ Option doesn't offer ECN accounts, so for traders who want to use scalping as a strategy, IQ Option may not be a good choice.
It is also worth mentioning that IQ Option does not have rollover fees, which makes it a good broker for traders who keep positions for weeks or even months without keeping an eye on interest rates, but this also makes it unfeasible for carry traders.
For CFD cryptocurrency trading positions, IQ Option charges:
15% fee for opening unleveraged CFD cryptocurrency position.

5% fee for opening leveraged CFD cryptocurrency position.

IQ Option charges swap of 0.5% of the value of the position, only for leveraged CFD positions.
There is an option for clients to use OTN tokens to reduce cryptocurrency commissions.
For dormant accounts, IQ Option charges $50 or the equivalent in other currencies per month, on the condition that the client has available funds to pay. This is only charged whenever the account has been inactive for ninety consecutive days. Also, if a client has failed to provide accurate and appropriate documentation to verify their account after 15 days of their first deposit, there is a verification account closing fee. In this case, all of the client's funds are returned to the client, excluding profit.
IQ Option Platform and Tools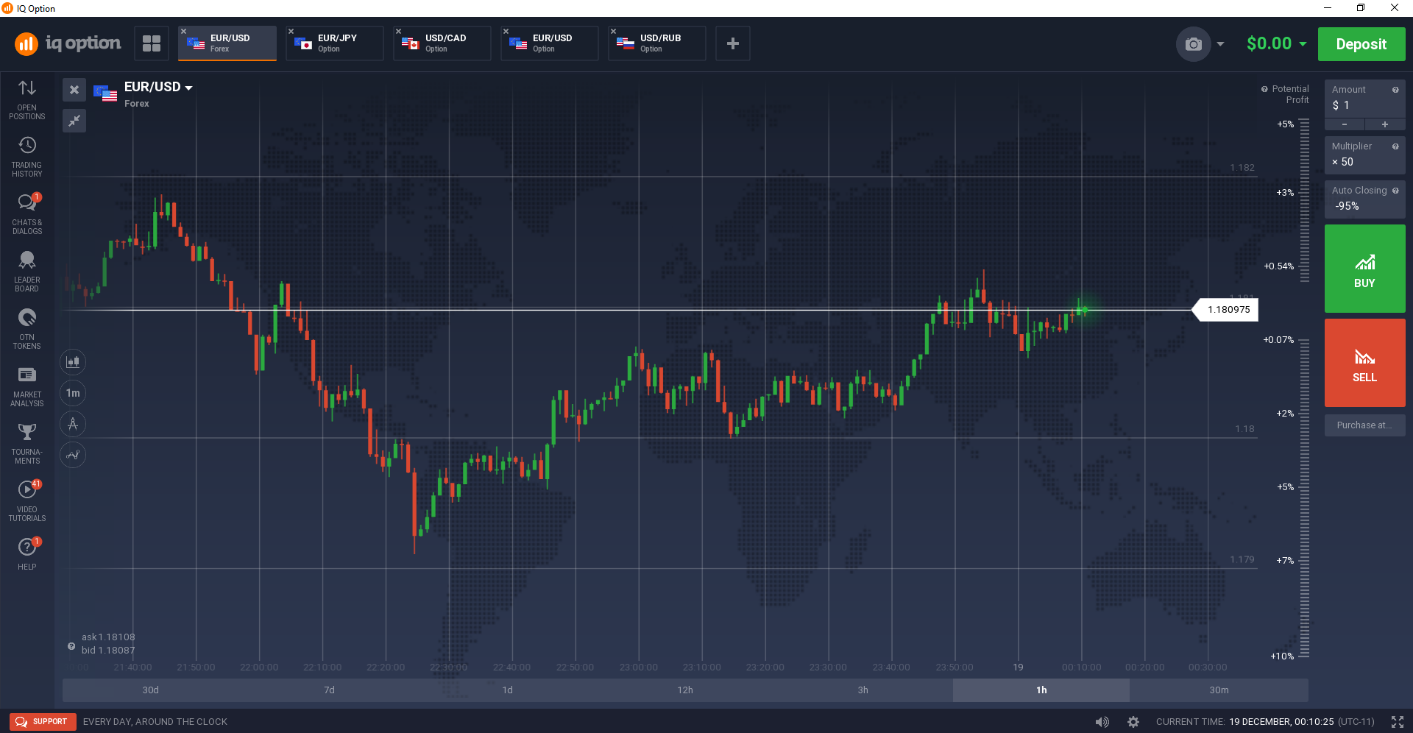 Unlike other online brokers who offer a variety of trading platforms or have the ability to connect to third-party platforms, IQ Option has a single trading platform for all of their instruments, available in 13 languages. Their platform can be accessed through a web browser, through a desktop computer with Windows, macOS, or Ubuntu, and through a mobile device with the IQ Option broker app for Android and iOS.
The web-based version is slower compared to the desktop version because the browser doesn't use WebGL capabilities for maximizing the computer's video card resources. This makes the desktop version a preferred option for a better trading experience.
Except for the speed difference between the web-based and the desktop version, everything else is the same.
Their platform is straightforward and easy to use, especially for someone starting out with trading; for someone who is already familiar with other platforms (like Metatrader4), it may be difficult at first to understand how lots and leverage work as it is completely different, but given time, that too can be learned.
The IQ Option platform has all the basic charting indicators. Some of them are even explained with a short video before adding them to the chart. Unfortunately, at this point, there is no option of adding your own, custom-made indicators.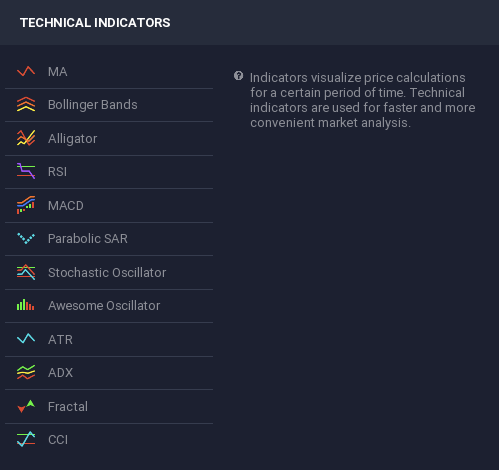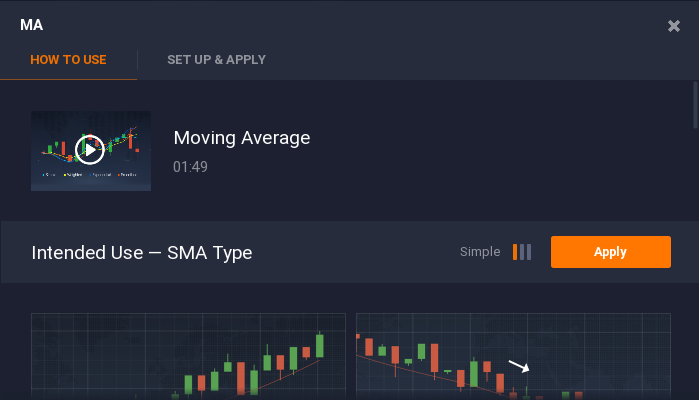 The platform and its charting functions are designed for both beginners and experienced traders. It has good visuals and it is pleasant to the eyes. But for traders who want to use automated trading software, they better look elsewhere as IQ Option does not support this at the time of writing.
Is IQ Option Mobile Friendly?
IQ Option's website is optimized for mobile devices, but if you want to trade through their web-based platform on a smartphone you will be automatically redirected to download their mobile app.
When you first open the IQ Option Mobile App you will notice that it is landscape oriented and there is no way to change it to a portrait orientation. That may be because landscape offers a better view at the charts. Other than that, and a little cosmetic change (menus are rearranged), there is no other difference between the mobile app and the desktop platform; they both have the exact same options and abilities for trading.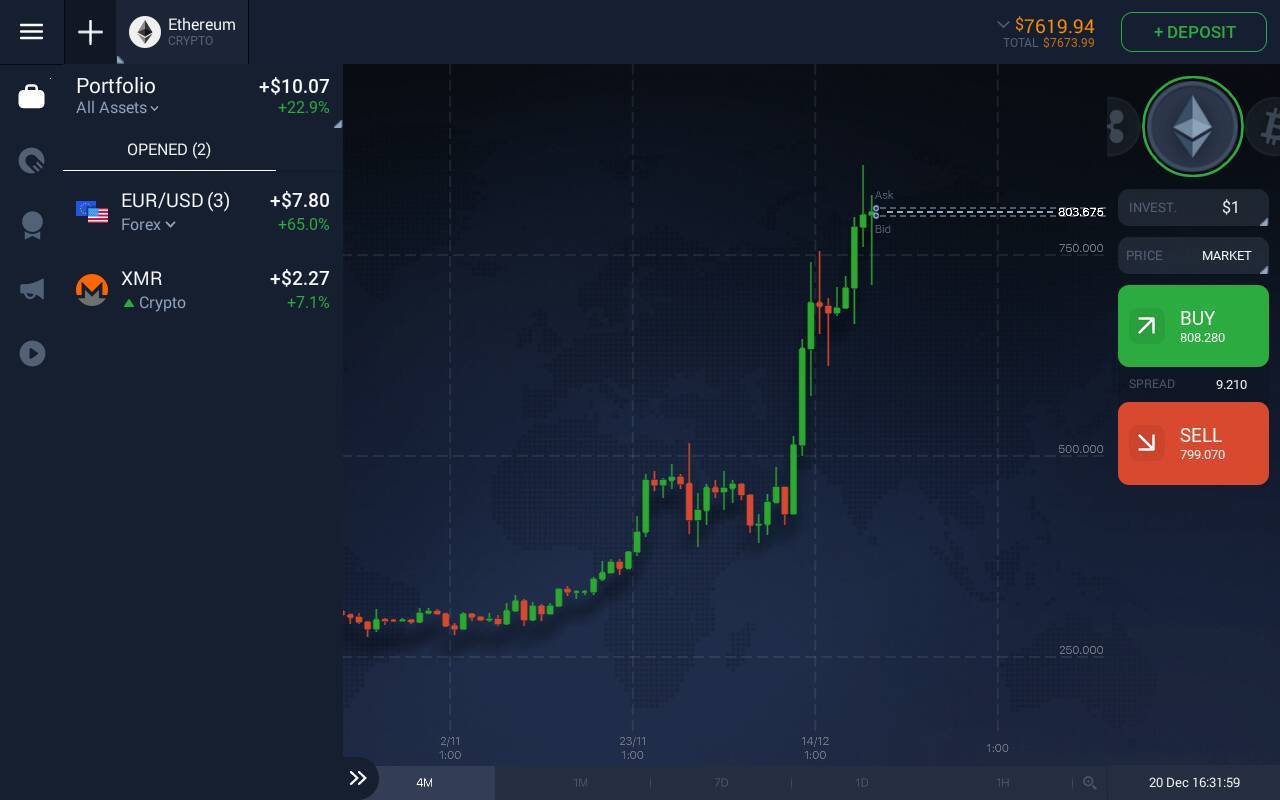 IQ Option Deposits and Withdrawals
Depositing funds with IQ Option is fast and easy, and there are no deposit fees charged to the client. This can be done through their website or directly through their trading platform. The accepted payment options are:
Credit card (Visa, Visa Electron, and Mastercard, Maestro)

Bitcoin

Neteller

Skrill

Webmoney (WME, WMZ, and WMR)
The minimum amount for deposit is $10, or the equivalent in other currencies.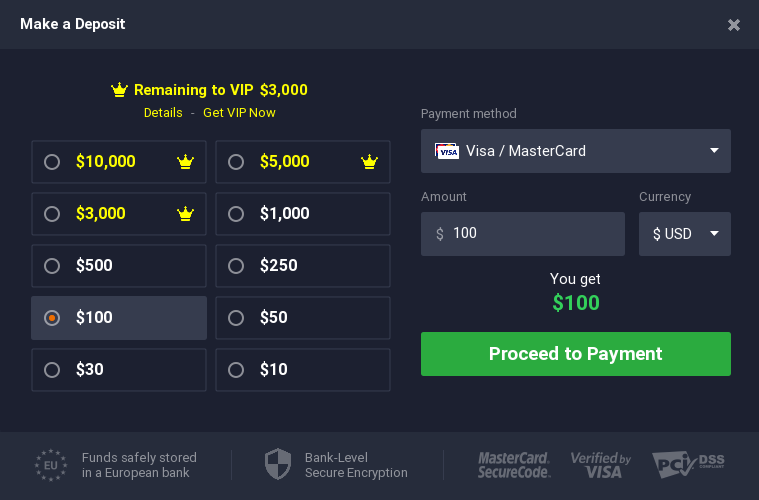 For withdrawals, IQ Option doesn't charge any fees, except for a wire transfer where the fee is $50 or equivalent in other currencies; and for bitcoin where the fee is 2% of the amount in bitcoin, plus a fixed fee of 0,001 bitcoins per withdrawal. Withdrawals are processed within 1-3 business days and there is no limit on the minimum amount you can withdraw.
It is worth noting, however, that there are cases where some people online have complained of not getting their withdrawals processed.
IQ Option Customer Support
IQ Option has only two channels for support service: phone numbers and email. They do not have a live chat.
They offer 24/7 support service only for phone calls. Their customer service numbers are located in 18 countries and offer support in 13 languages; however, the clients of the other 160 countries that have accounts with IQ Option have to use one of these phone numbers in other countries, or to contact the broker by one of the two emails that they have posted on their website, which can take up to 24 hours to get a response to an inquiry. This makes the email a slow way of communicating, especially if you do not get an answer the first time.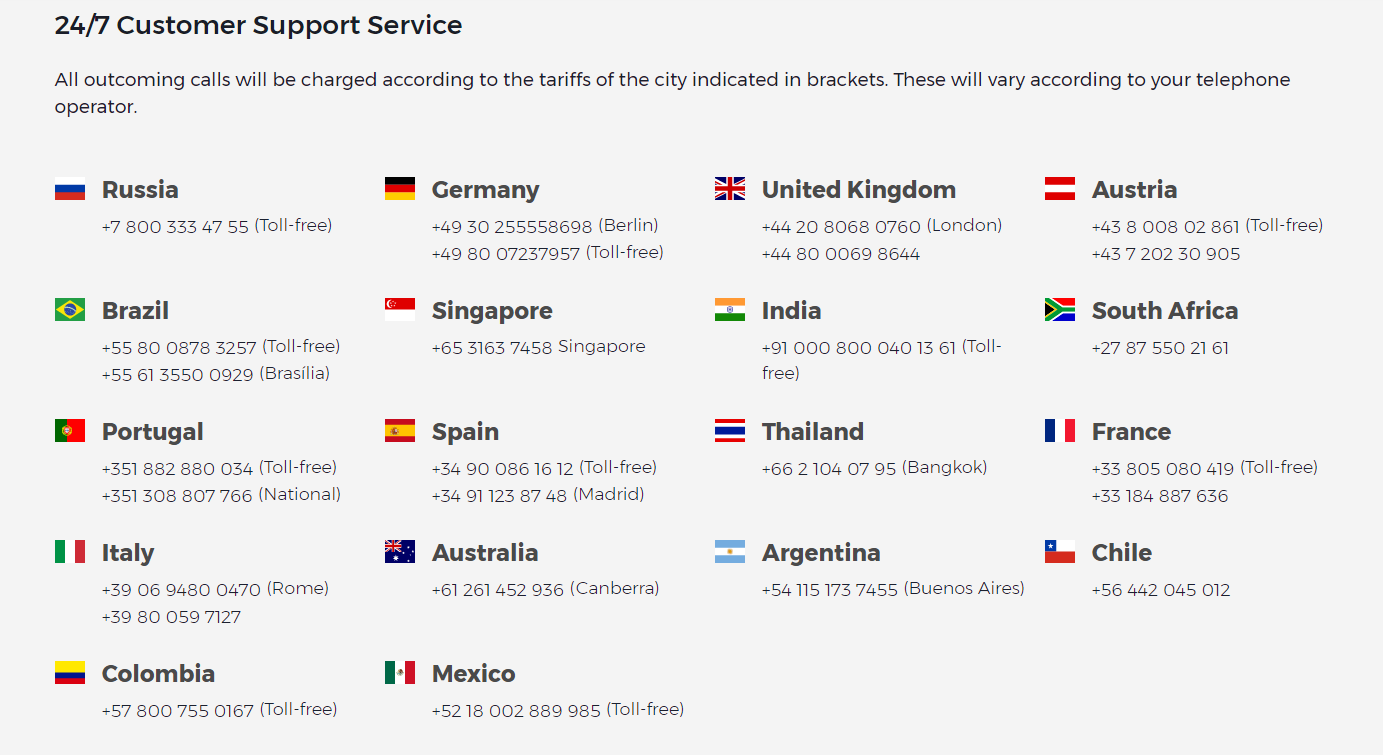 IQ Option Research and Education
 IQ Options offers free education in the form of 16 short (1 min on average) videos posted on their website. These videos cover the basics of trading, such as: how to start forex trading, what is RSI, MACD, candlestick patterns, and so on. To learn more about the industry as they say, IQ Option has a blog, where analysts (usually once or twice a day) cover a particular asset or a currency pair, and lately, their primary focus is cryptocurrencies.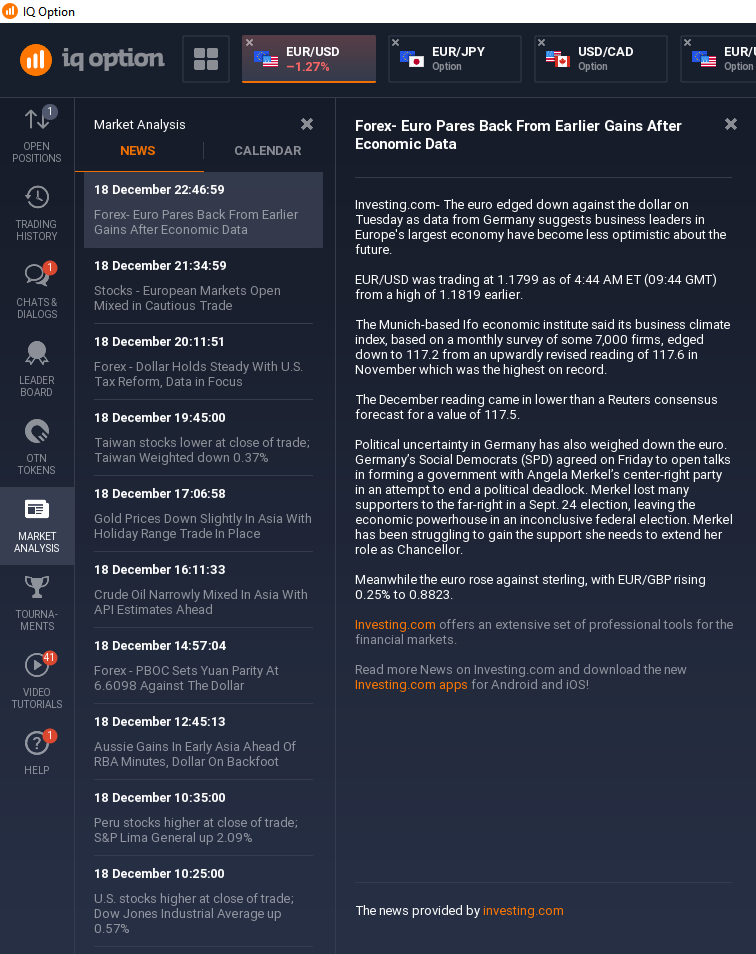 Their on-platform market analysis is based on calendar news reports (i.e. unemployment rate, housing starts, etc.) and market news, which are broadcasted from other news networks that you can basically find elsewhere.
The website videos and blog can be accessed by anyone, while the platform news can be accessed only through the platform, even with a practice account.
Noteworthy Points
Since 2016, the British car manufacturer Aston Martin in the World Endurance Championship (WEC) became an official partner of IQ Option.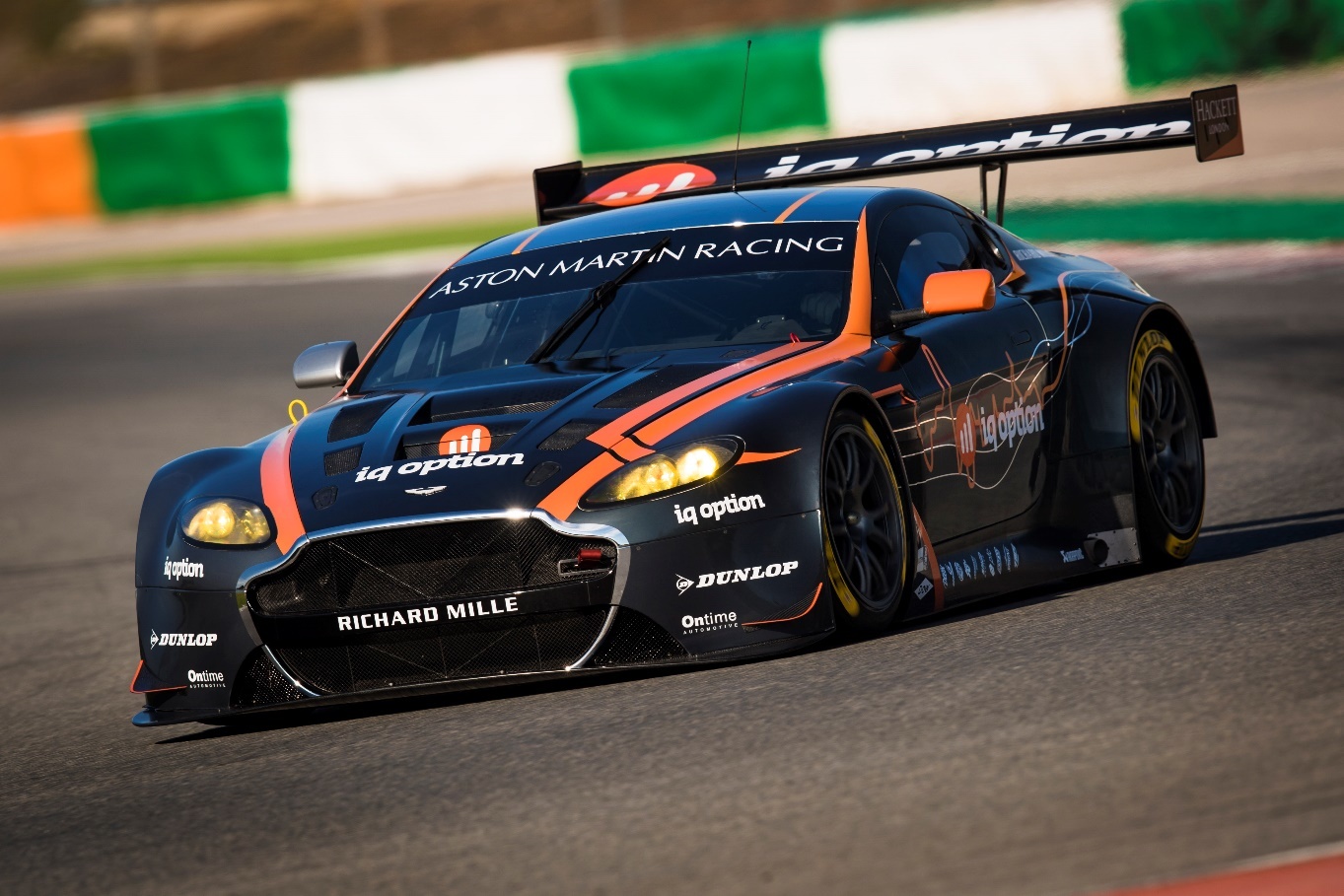 Every month, IQ Option offers a unique opportunity for their traders and affiliates to participate in the Drive Day program with Aston Martin Racing. There, they will have access to the newest production and racing models, and expert tutoring on how to drive an Aston Martin.
IQ Option Conclusion
IQ Option is one of the rare brokers that offers a wide variety of instruments for trading: from binary options and cryptocurrencies to trading forex. Their platform is easy to learn and even easier to use, which makes it suitable for both beginners and experienced traders.
But when you look at the IQ Option platform it becomes obvious that they started as a binary options broker with a focus on trading these instruments and they keep that focus even today. They make forex trading seem secondary. On IQ Option, scalping strategy and carry trading strategy won't work, due to higher-than-average spreads and without rollover fees on currencies.
A minor issue that may cause doubts when selecting this broker, is that there are cases where people have complained that they have never received their funds once they processed a withdrawal. Also, there is no information on how the broker processes trades on the market or which liquidity providers they use for trading. This can lead to a conclusion that IQ Option is a dealing desk broker that takes positions opposite of the traders. Often, this leads to conflicting interests between the clients and the broker.