Introduction
Fidelity Investments has many years of experience as it was founded in 1946 and services over 1 million brokerage accounts which account for over $2 trillion in assets. The brokerage is headquartered in Boston Massachusetts and has 10 regional offices and over 190 investment centres within the United States. Fidelity also has a global presence across North America, Europe, Asia, and Australia. Fidelity Investments is registered and regulated by the Securities and Exchange Commission (SEC) and is a member of the New York Stock Exchange (NYSE). The brokerage has been awarded countless awards for their services offered over the years and continues to excel in the areas of customer service and educational services.
Fidelity Products
Fidelity Investments offers their clients a wide range of services and investment products through both retirement and non-retirement accounts. See below a full list of the investment products offered by Fidelity Investments.
Mutual funds
Retirement and IRAs
Stocks
Fixed income
Bonds
CDs
ETFs
Options
Precious metals
Forex
Sector investing
Cash management and credit cards
Managed accounts
529 college savings plans
Annuities
Life insurance and long-term care insurance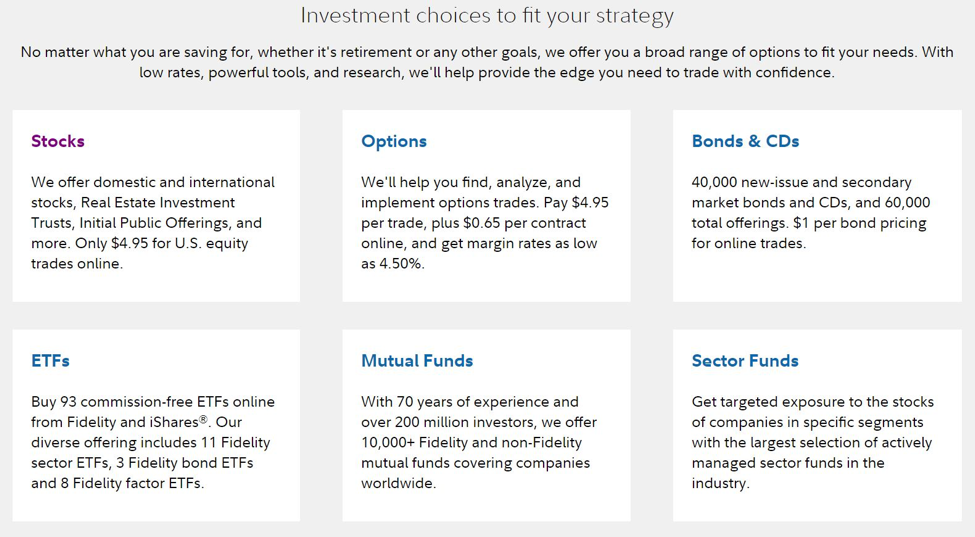 Fidelity Trading Conditions
Fidelity Investments strives to provide traders with the best trading conditions on the market. Clients have access to different levels of services and trading conditions based on how much they trade. For instance, investors who trade more than 120 times in a 12-month period and maintain $25,000 or more in their account can achieve Active Trader status which gives them access to 24/7 trading specialists. As for standard accounts, Fidelity's account minimum is $0, but for mutual funds traders need at least a $2500 minimum. All in all, the trading conditions are favorable at Fidelity Investments.

Fidelity Account Types
Fidelity Investments offers various investment services that are accessible via different minimum requirements. See the different investment services with their account requirements below.
Fidelity Go
The simplest account type for easily investing online
Minimum investment is $5000
Gross advisory fee is 0.35%
Fidelity Portfolio Advisory Service
Designed for investing for retirement and other large long-term goals
Minimum investment is $50,000
Gross advisory fee is 0.60% – 1.70%
Fidelity Personalized Portfolios
Has a focus on tax-sensitive investment management for long-term growth
Minimum investment is $200,000
Gross advisory fee is 0.55% – 1.50%
Fidelity Separately Managed Accounts
Specific investment strategies and segments of equity and fixed income markets
Minimum investment is $200,000 – $500,000
Gross advisory fee is 0.20% – 1.10%
Fidelity Wealth Management Advisory
A personalized service through private wealth management
Minimum investment is $2 million
Gross advisory fee is 0.40% – 1.15%
Fidelity Commissions & Fees
Fidelity Investments has competitive commissions and fees, and they vary depending on the account type and investment products. However, all trades are subject to a commission of $4.95 per trade, with the exception of their commission free ETFs (91 in total), and 4000 no transaction fee mutual funds. As for the 8505 other mutual funds, it costs traders $49.95 to buy them and $0 to sell them. Options trading fees include the $4.95 trading fee plus a $0.65 per contract fee. Compared to many other leading trading brokerages, Fidelity Investments offers very reasonable and competitive commissions and fees.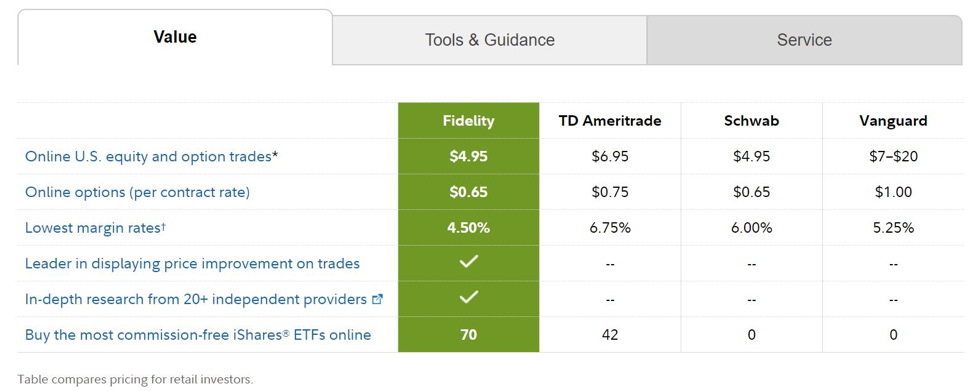 Fidelity Platforms and Tools
Fidelity Investments offers their traders two types of trading platforms known as Active Trader Pro and Wealth Lab Pro. Both platforms have downloadable desktop applications and the Active Trader Pro is web-based as well. One major downside to these platforms is that traders can only use them is they meet the minimum 36 trades in a 12 month period and maintain at least $25,000 in their account at all times.
The Active Trader Pro platform is the brokerages primary platform and is easy to use and well designed. The trading platform comes equipped with various tools and features including 166 charting indicators/studies, 22 drawing tools for charting analysis, 26 option chains, and 85 watch lists.
As for the Wealth Lab Pro platform, it is basically a strategy testing software that's meant to be utilized by experienced and advanced traders. It allows traders to test multiple strategies and design their own strategies with or without code.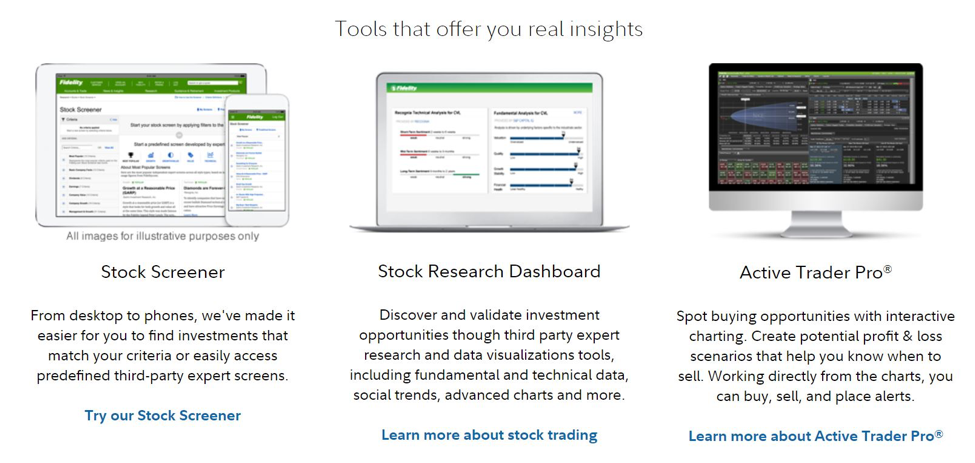 Is Fidelity Mobile Friendly?
The Active Trade Pro trading platform and Fidelity website is mobile friendly and fully optimized for all smart mobile devices. The platform stays true to the overall design and has most of the trading features and tools. The mobile trading experience is fast and flawless which makes for a great trading experience while on the go.
Fidelity Promotions
Fidelity Investments offers their investors various promotions and incentives for investing and trading with them. The promotions received are dependent on trading activity and the size of your investment. See below a list of the available promotions.
300 commission free trades with deposits of $50,000 or more
500 commission free trades with deposits of $100,000 or more
Apple gift card up to $500
Up to $2500 cash bonuses
Fidelity Deposits & Withdrawals
Both deposits and withdrawals at Fidelity can be done via an electronic funds transfer (ETF) and through bank wire transfers. ETF deposits and withdrawals at Fidelity generally take between 1-4 business days while bank wire transfers are completed instantly. In addition to these deposit methods, investors can also deposit funds via a check through the mail, bringing it to a branch, or through your mobile device. The minimum deposit amount for opening an account at Fidelity is $2500 or $0 for rollover IRA accounts.
Fidelity Customer Support
One area that Fidelity Investments excels at is customer support. The support offered by them is some of the best support offered in the investment brokerage industry. Fidelity offers support through a virtual assistant that's available 24/7, through email, postal mail, telephone, live chat, secure messaging, and even in person support at one of there numerous investment centres. Never before have we seen this level of customer support. The representatives can be contacted very easily and are quick to respond. As well, all the online support options and telephone support are available 24/7.

Fidelity Research & Education
Another area that Fidelity excels in is there research and educational services. Fidelity investments offers their clients an extensive education centre that is very well organized and easy to find information. They offer educational material for all levels of traders and investors and it's available in various formats from articles, guides, walk-throughs, webinars, and more.
Noteworthy Points
One of the most notable things about Fidelity Investments is their competent and resourceful customer support and educational material and products. Never before have we seen this level of support and variety of material. Also, Fidelity has an amazing reputation with many years of experience in the investment and trading industry.

Conclusion
Overall, Fidelity Investments is a very competent and reliable investment brokerage. They offer their clients a wide array of investment products and have various trading options and account types to suit every type of trader. The customer service and educational material is outstanding, and the overall customer satisfaction is high. As well, Fidelity offers their clients very competitive commissions and fees, and a great trading platform to use. Fidelity is a great brokerage for traders looking to competently invest in their future and learn and build their investment knowledge.