Interactive Brokers Introduction
Interactive Brokers was initially established by its Chairman and CEO Thomas Peterffy in 1977 as T.P. & Co. It was later renamed to Timber Hill Inc. in 1982. The brokerage firm got its present name in 1994 when the firm was restructured to keep its electronic brokerage operations separate from Timber Hill Inc. whose primary focus was market making. In 2007, Interactive Brokers became listed on NASDAQ and now trades under the ticker symbol IBKR. Today, its share prices are also used as a constituent of the S&P 400 market index.
Interactive Brokers has also established several subsidiary companies across several major financial centers in order to serve its clients on a domestic level. Apart from the corporate headquarter located at One Pickwick Plaza, Greenwich, CT 06830 USA, the subsidiaries offices can be found at:
Australia – Registered office: Lvl 40, Grosvenor Place, 225 George Street, Sydney
Canada – 1800 McGill College Avenue, Suite 2106, Montreal, Quebec
Hong Kong SAR – Suite 1512, Two Pacific Place, 88 Queensway, Admiralty, Hong Kong
India – 502/A, Times Square, Andheri Kurla Road, Andheri East, Mumbai
Japan – Tokyo
UK – Level 20 Heron Tower, 110 Bishopsgate, London
In terms of regulatory oversight, Interactive Brokers is regulated by several regulatory agencies based on its operational locations. The following list below shows the regulatory agencies that are in charge of overseeing Interactive Brokers' operations for the country in question:
USA:
Chicago Mercantile Exchange
Commodity Futures Trading Commission
Financial Industry Regulatory Authority
National Futures Association
New York Stock Exchange
Securities and Exchange Commission
Canada:
Investment Industry Regulatory Organization of Canada (IIROC)
Australia:
Australian Securities and Investments Commission (ASIC)
UK:
Financial Conduct Authority (FCA)
India:
Bombay Stock Exchange (BSE)
National Stock Exchange of India (NSE)
Japan:
Kanto Local Finance Bureau (kinsho)
Japan Securities Dealers Association
General financial futures trading Association
Hong Kong:
Hong Kong Securities and Futures Commission
Stock Exchange of HK (SEHK)
Hong Kong Future Exchange Ltd (HKFE)
Awards
In recognition of Interactive Brokers' achievements, the brokerage firm has received and won numerous awards from leading industry reviewers over the years. Some of the awards won and received include:
2017
Barron's Awards
Stockbrokers.com awards
Fund Technology and WSL Institutional Awards
HFM Week US Hedge Fund Services Awards
CTA Services Awards
2016
Barron's Awards
WSL Institutional Awards
HFM Week US Hedge Fund Services Awards
CTA European Services Awards
2015
Barron's Awards
FX Week Award: Read the full article
CTA US Service Awards
WSL Institutional Awards
2014
Barron's Awards
HFM US Hedge Fund Services Awards
WSL Institutional Awards
Stocks and Commodities Awards
To cater to its international clientele base, Interactive Brokers has translated its website into:
Chinese (Simplified)
Chinese (Traditional)
English
French
German
Italian
Japanese
Russian
Spanish
Interactive Brokers Products
In terms of product offerings, Interactive Brokers offer a wide range of products covering several asset classes such as forex, stocks, bonds, ETFs, CFDs, futures, options and mutual funds. Overall, there are more than 80 different currency pairs and 4000 plus CFDs offered for trading by Interactive Brokers.
Interactive Brokers Trading Conditions
Studies conducted by the independent Transaction Auditing Group, Inc., (TAG) has demonstrated that the cost of trading stocks on Interactive Brokers' platform is about 0.35 of cent lower than the industry average. In addition, trade execution is also 6x faster that the industry average, 0.9 seconds vs. 5.6 seconds. As for the leverage offered by Interactive Brokers, the maximum leverage ratio is 1:40.
Interactive Brokers Account Types
Interactive Brokers offers several types of accounts depending on the client's investment objectives. They are categorized into 2 main categories, Trader/Investor accounts and Institution accounts.
Trader/Investor Accounts
Classified into 4 types, Individual trader/Investors, Small business, Family office and friends and family advisor
Minimum deposit of $10,000 (cash or stocks)
Must completed a minimum of 100 trades on the demo platform to demonstrate product familiarity
Institution Accounts
Classified into 6 types:
Registered Investment Advisor
Hedge/Mutual Fund
Money Manager
Introducing Broker
Incentive Plan Admin
Proprietary Trading Group
Broker Commissions & Fees
In terms of trading fees, Interactive Brokers is said to offer one of the lowest fees in the industry. This is because the broker is a true ECN broker. You have the option to choose between fixed pricing or tiered pricing. With fixed pricing, the commissions are fixed or are percentage based on the volume traded. For tiered pricing, you get volume discount and rebates instead. The following list below shows the applicable fees on the different types of instruments traded.
 Stock & ETFs* = $0.005 per share
Options = $0.25 to $0.70 per contract
Mutual Funds** = Free
Mutual Funds*** = Lesser of 3% trade value or $14.95
Treasuries = 0.002% to 0.02% face value
Bonds (Corporate, CDs, Municipal) = 0.025% to 0.1% face value
Forex = 0.08 to 0.20 basis point trade value
CFDs (shares) = $0.005 to $0.003 per share
CFDs (index) = 0.005% to 0.010% per trade
Futures & FOPS = $0.85 per contract ($0.50 Globex E-Mini Forex)
Metals = 0.15 basis point trade value
*Excludes commission-free ETFs
** No transaction fee funds
*** IB transaction fee funds
Broker Platforms and Tools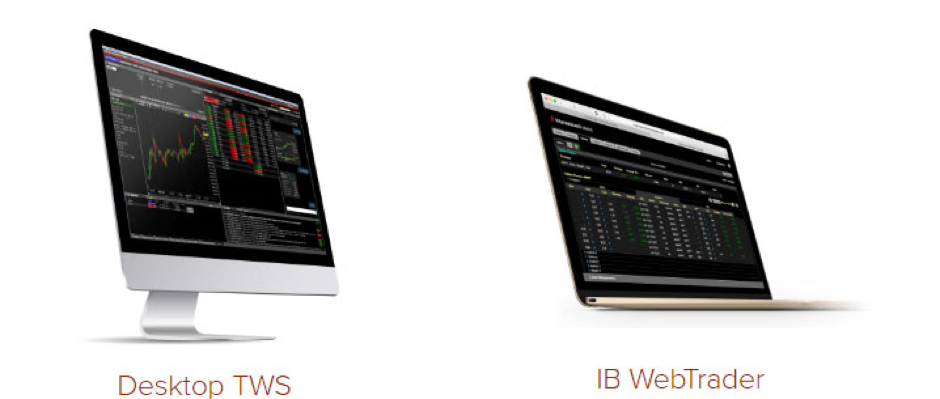 Interactive Brokers flagship platform is the proprietary Trader Workstation (TWS). It was first introduced in 1995 and over the years has been greatly improved and enhanced. However it should be noted that the platform was designed for professionals and requires new users to have a steep learning curve. Nevertheless once you have mastered how to navigate around the platform, you will be able to execute sophisticated analysis and trading strategies. Its key strength is its speed which is near instantaneous. However a major drawback of the trading platform is the charting capabilities. It lacks the ability to perform long look back periods. While Interactive Brokers have continuously improve on the platform based on the feedbacks provided by its clients, the TWS still lack some of the key functions which the MetaTrader 4 are able to perform.
Is Interactive Brokers Mobile Friendly?

To cater to an ever-increasing mobile capable trading community, Interactive Brokers launched the mobile verson of its TWS called iTWS in 2009. The app is based on the main desktop platform and can be downloaded from Apple App Store. The app lets you make trades, scan the markets and keep yourself updated with alerts and news fed through the app. You can also monitor your account statues and manage your funds without having to drill down the menu list. Overall, it helps you informed of the market situations while you are away from your main trading station.
Interactive Brokers Promotions
As a dedicated brokerage firm, Interactive Brokers focuses on providing its clients with high quality services and low trading costs. As such, the broker does not have any kind of bonus offer to attract its clientele.
Interactive Brokers Deposits & Withdrawals
Unlike other brokers in the industry, deposits and withdrawals at Interactive Brokers are only conducted by means of bank wire transfer, bank transfer, checks, BPAY, Online Bill Payment, ACH (U.S clients), SEPA (EU clients) and internal transfer. As such, it takes about 3 business days for funds deposited to be utilized. For withdrawals, the methods used are the same as for making a deposit. Interactive Brokers does not specify any fees for making a deposit or withdrawal. Nevertheless, you should expect to incur the typical banking charges when making a wire transfer from your bank account to Interactive Brokers and vice versa.
Interactive Brokers Research and Education
In terms of research and trader's education, Interactive Brokers does provide a fairly comprehensive library of resources. However access to these resources will require some digging as they are embedded deeply in the website. While the information provided are high quality but because of the way they are distributed across the website, the website seems highly disorganized.
Interactive Broker Note
Specification:
Interactive Brokers